INTERVIEW WITH DR. ANITA WEISS ON EXTREMISM
conversation
The News Sunday, January 16, 2022
"What people often say about Pakistan is not the country I know"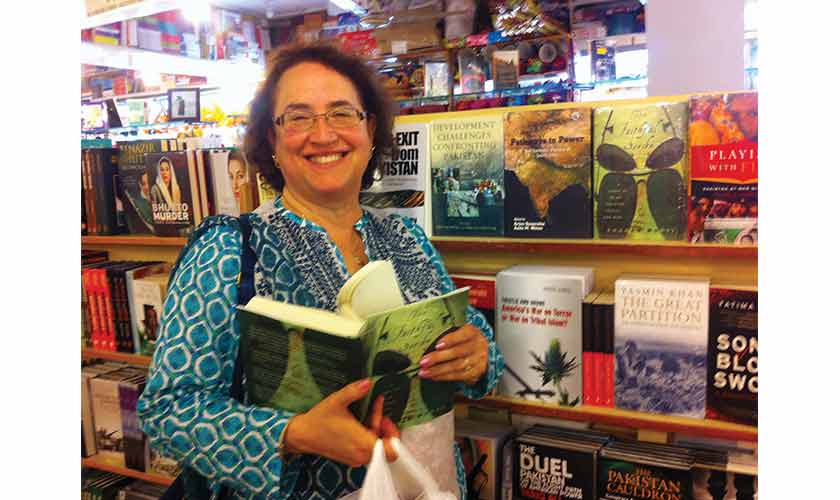 Some scholars claim expertise on a country after visiting it once or twice. Dr Anita Weiss is not a scholar of that kind. She has been going to Pakistan for over forty years, tries to visit Pakistan every year; she lives with Pakistanis, participates in their festivities and writes about their culture and politics. She is also one of the few Pakistan scholars who speak Urdu fluently and comprehend Pakistan's issues by communicating with local people in their language.
With a doctorate in sociology from the University of California, Berkely, she has been teaching international studies at the University of Oregon since 1988. She writes on South Asia, the Middle East, and the Islamic world, but Pakistan is the focus of her research. The fact that she has written eight books on Pakistan speaks of her passion for the nation and its people. Her books include Walls within Walls: Life Histories of Working Women in the Old City of Lahore and Interpreting Islam: Modernity and Women's Rights in Pakistan; books co-edited by him include Pathways to Power: The Dom
estic Politics of South Asia and Power and Civil Society in Pakistan.
Her recent book, Countering Violent Extremism in Pakistan: Local Actions, Local Voices (Oxford University Press, 2021), narrates a hidden side of the story and paints the picture we usually don't see in the mainstream media. It looks at how ordinary citizens of Pakistan resist extremism and violence through music, poetry, art, education and the narratives of moderate clerics. In conversation with The News on Sunday, Dr Anita Weiss shares stories of ordinary people resisting violent extremism through fine arts, poetry, and innovative literacy projects.
The News on Sunday: Your new book reveals a 'hidden side' of Pakistan and its people trying to thrive despite the hardships and how they resist extremism. What prompted you to write the book?
Dr Anita Weiss: As I say in the book, several things prompted me to write this book. First, what people usually say about Pakistan in the United States is based on half realities; they are very uninformed. On the other hand, the people who write about Pakistan often don't actually know what's going on. They are 'overnight' experts, or they have an agenda resulting in what they say not being accurate. I think there are not enough of us who understand what is going on in Pakistan. That's one thing.
What people often say about Pakistan is not the country I know. In everything I have done, I have wanted to understand and give voice to people who otherwise didn't have a voice.
The final motivation was the attack on the Army Public School in Peshawar in December 2014. When it occurred, I reflected that what had occurred was not the Pakistan I knew. The Tehreek-i-Taliban Pakistan (TTP) who attacked that school went up to young boys and asked them what their fathers did, and when the young boys said he worked for the army, they shot them. But as appalled as I was by what had happened, I was also appalled by the official reaction of the state. Nawaz Sharif did not come out as overly concerned by the events; he did not even go to Peshawar at that time. But I also saw that all over the country, so many Pakistanis started to react and said "we need to take our country back, our Pakistan back. This is not what we signed up for; this is not our country; these are not our values."
I set out to explore what was actually occurring throughout the country. In doing so, I did not expect that I would end up with some of the themes I wrote about. I never expected that I would write about poetry or music. But I found that people were taking a stand on counter extremism in a wide variety of ways. I talked to people all over the country — many, many people and I visited places "off the beaten track". I found a resilience, a power and a strength that otherwise I hadn't seen that gets manifested in poetry, music, art and in other ways.
TNS: Your methodology is based on interviews, participant observation, and informal discussions with people. Why is this methodology relevant to this book?
AW: Because that's how I found out about these things. As a sociologist, I often use qualitative methodology, interviews, bibliographic sources and the like. If you are going to identify local voices, you need to hear them from the people. And I read a lot; I mean, I read literature, books, articles. I came up with the title of the book at the outset. CVE, Countering Violent Extremism, has become a trope many people talk about while exploring how they can eliminate extremism. But often outside donors come in, with their own ideas and agendas, and it's less of a useful impact than what local people, based on their own experiences, are trying to do. I feel I turned the concept on its head, that these are not actions or ideas coming from outside, but I am instead simply recounting what local people are doing to recapture their values and assert their cultural authenticity.
Abdul Khabir Azad, the Badshahi Masjid imam, had gone to the Christian Joseph Colony when it was under attack by a frenzied mob. He stood in front of the Joseph Colony, spread his arms, and said to the attacking mob, "this is not Islam". That had an impact. He formed an interfaith group that includes leaders from all religions and sects in Lahore.
TNS: Was your book project funded?
AW: Yes, I applied for several grants. The initial money came from the University of Oregon, where I teach. Then I received funding from the Harry Frank Guggenheim Foundation (HFG), a private organisation whose main priority is "knowledge against violence". I did not want to receive funding from the US government. Most of the time, their budget is limited to conducting research in large cities like Islamabad and Karachi, they say for security reasons. However, the HFG funding did not limit where I could go. Importantly, it enabled me to purchase a used car so I was able to travel throughout the country; my driver, Husnain Rasheed, carefully took me everywhere.
TNS: You discussed four musicians who are resisting violent extremism in Pakistan. Saif Samijo of Sindh and Taimur Rehman from the Punjab mix folk and Sufi traditions with Western styles. However, the two Pashto musicians, Karan Khan and Gulab Khel Afridi, represent folk music of their area. So which genre is more effective in resisting extremism?
AW: They are all effective. I can't say that one is better than the other. What an inventive musician Gulab Khel Afridi is. He told me that the rabab, a string instrument, is played in every village of Khyber Pakhtoonkhwa. He offers classes in his studio and on the internet. He said to me, "I don't know where the idea came from, the stereotype that the Pakhtun cannot live without his gun. We can live without guns; we cannot live without the rabab." So, he is trying to reassert the foundation of Pakhtun identity.
Karan Khan is different; he is a singer. He sings and writes in Pashto and has a large following. Very powerful. When he wrote the anthem for the Peshawar cricket team, Peshawar Zalmi (which means Peshawar youth), he never mentioned cricket. Instead, he wrote about inspiration, resistance and showing the world the nature of the youth of Peshawar. You see, both musicians are talking about the identity of their community.
TNS: You also interviewed some people the Establishment does not like. Did you receive any warnings or face censorship?
AW: No. Please remember that I have been visiting Pakistan for 40 years so I have learned effective ways of finding out what is happening without crossing lines that could be opposed. The only topic that would have pertained to this, regardless, was about the Pakhtun Tahaffaz Movement, the PTM, which the state doesn't want to be written about. I decided not to interview the upper level of PTM leadership because I didn't have to. Instead, I interviewed people I have known for years and a few in the lower strata of the PTM, but not the top leadership, and was also able to read opinion pieces by PTM founder, Manzoor Pashteen, and other supporters, some of which were in The New York Times. No one would question why I spoke with the people with whom I talked as I had known most of them for many years.
TNS: You did not include Balochistan in your analysis. Would you like to discuss the reasons?
AW: I did not go to Balochistan because of the problematic politics occurring in that province. I did not want the people with whom I would talk to bear any consequences and possibly be questioned by the state or intelligence agencies just because they spoke with me. However, I did speak with a few Pashto poets from Balochistan who now live elsewhere – in Peshawar and Islamabad.
TNS: Based on your chapter on poetic resistance, do you think that the assertion that most Pashto poets protest the stereotypes of their communities as violent and irrational correct? On the other hand, is Sindhi poetry intertwined with Sufi and folk traditions?
AW: That's an excellent question because these two cultures are very different, yet they are part of the same nation. Pashto poetry is basically saying how you are describing us is wrong. We are not violent people, and you are portraying us as extremists.
Rahman Baba, the great Sufi poet of Pakhtuns, had said in a poem, "walk carefully because the roses you step on also have thorns." He always reminds people to remember who they are, and his poetry evokes cultural traditions and history. A contemporary Pashto poet, Hasina Gul of Mardan, has a large following, and many people come to mushairas to listen to her talk about how Pakhtun lives have been forced to change. I write about so many other Pashto poets in the book.
Sindh, however, is a very different place. Sindhis value their syncretic identity, a compilation of values and history that have created their identity. We can see the foundation of this syncretic identity in the poetry of Sachal Sarmast and Shah Abdul Latif Bhittai.
Many qawwalis based on the poetry of Sachal Sarmast are recited daily at his shrine. The most popular one, which is certain to be sung a few times every day, is based on his poem that says, "I am not a Shia or Sunni; I am a person, a human being." His poetry is anti-violence. The same message is manifest today in Hafiz Nizamani's poetry. Both are saying show me paradise now, not after I'm dead.
Shah Abdul Latif Bhittai's poetry is grounded in the land and the imagery of Sindh. His poetry is about Sindh and its people. Contemporary Sindhi poets write on these themes as well. If you compare Rehman Baba, Sachal Sarmast and Bhittai, you can clearly see how their poetic themes are very different from one another.
Some people asked me why I didn't write about Urdu or Punjabi poetry. In fact, I don't see it as a poetry of resistance. Punjabi was written in Gurmukhi; later on, it was written in Urdu. But what is it resisting? The Urdu poetry today resists the state, but it's not about reclaiming cultural authenticity. That's very different than saying I don't like the state. Regardless, it was a choice I made. I found Pashto and Sindhi poets and their poetry as a very powerful force, countering stereotypes and promoting harmony.
TNS: On Page 128, you talk about 12 rickshaws placed in different parts of Lahore as part of the storytelling project. Could you elaborate on what types of stories were painted on these rickshaws?
AW: Qudsia Raheem, head of the Lahore Biennale Foundation, developed a number of projects to celebrate Lahore. One of those I wrote about was the bus stop project: artists were provided grants to create beautiful bus stops. This impressed me: a worker – whether shielded from the rain in winter or sun in summer — while waiting for a bus would realise "someone cares about me". That itself counters anger and ultimately extremism. Another project was this one you've asked about; with the rickshaws, each painted with local cultural stories and placed throughout the older areas of Lahore. People, through these projects, heard their own stories and identified with them. There were many other Lahore Biennale activities that I write about in the book, and that people can find more about on their website: https://www.lahorebiennale.org
TNS: In the final analysis, which of these endeavours are more effective in countering extremism in Pakistan?
AW: All are very effective. These are locally generated actions by people who are asserting their culture and values. I wrote about those that I found impressive. Their work is not about resisting but rather asserting who their communities are.
For example, in Chapter Five, I wrote about prominent religious leaders who are promoting interfaith harmony and opposing extremism. Abdul Khabir Azad, the imam of the Badshahi Masjid, had gone to the Christian Joseph Colony when it was under attack by a frenzied mob. He stood in front of the Joseph Colony, spread his arms, and said to the attacking mob, "this is not Islam". That had an impact. He formed an interfaith group that includes leaders from all religions and sect in Lahore.
There are many other religious leaders in Pakistan who have also taken a stand to promote interfaith harmony and counter violent extremism. In Lahore, Maulana Zubair Ahmad Zaheer, the head of the Ahle Hadith community in Lahore, has been in and out of jail for 35 years to support Christians' rights. The chairperson of the Council of Islamic Ideology, Dr Qibla Ayaz, has also promoted seminars and events at the council to promote interfaith harmony. I write about all of these and many other such efforts occurring throughout Pakistan today.
There is a consensus among these religious leaders that there is a need in Pakistan to teach children about all religions. They can learn about their own faith at home, but they need to be informed about others including Christians, Hindus and Sikhs. It makes an impact not only on the individuals themselves but on the society at large.
Just by way of concluding our discussion, I should add that many people have told me that they had heard of some of the things that I write about in the book, but no one had known about all of these things. I hope that my book itself plays a role in promoting peace and understanding in Pakistan, which certainly helps to counter violent extremism.
---
The author has recently published his co-edited book, From Terrorism to Television: Dynamics of Media, State, and Society in Pakistan (Routledge, 2020). As an academic scholar and freelance writer based in the United States, he has worked for several universities as assistant dean, director and professor of communication.