CENSORSHIP IN SOUTH ASIA BY QAISAR ABBAS
A censorship virus grips South Asia
By
The News Sunday, November 21, 2021
Although we can easily blame the pandemic chaos, curbing the media content is hardly a new trend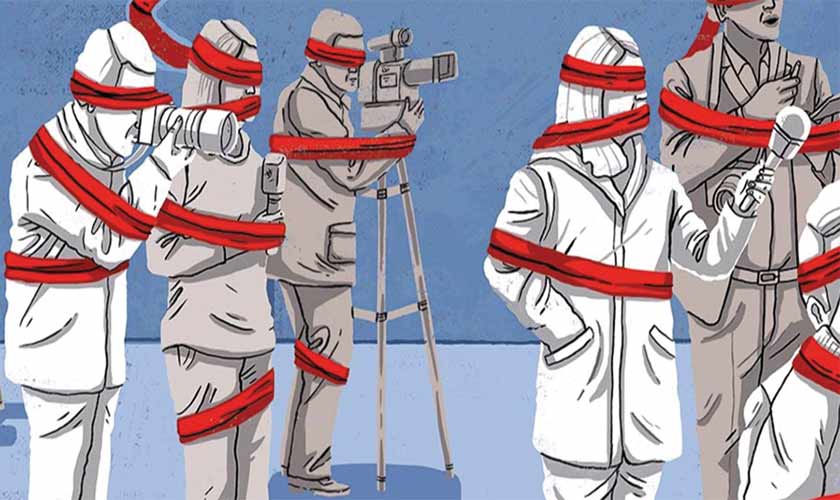 In an unprecedented move, this year's Nobel Peace Prize was awarded to two brave journalists, Maria Ressa of the Philippines and Dmitry Muratov of Russia. Recognising that media censorship has historically never been so widespread globally, this award highlights the threatening environment for journalists and their daring struggle to protect their freedom.
Although we can easily blame the pandemic chaos, curbing the media content is hardly a new trend. Journalists have been under the gun for some time in the wake of increasing atrocities against them under democratic or autocratic systems worldwide.
While coronavirus paralysed economic, social and religious activities worldwide in 2020, it meant more violence and censorship for journalists and media outlets in South Asia.
Governments and religious groups targetted media workers and imposed restrictions on their professional work. In addition, the horrific effects of the pandemic on human lives and healthcare services became a pretext for media censorship.
From a nominally democratic government in India and a hybrid civil-military establishment in Pakistan to the prevailing chaos in Afghanistan, curbs on freedom of expression take several forms and shapes in the region. Whatever the political system, media censorship has become the name of the game imposed with a variable degree of brutalities and strangulation of means of mass communication.
Reporters Without Borders (RSF), in its World Press Freedom Index 2021, has identified Bangladesh as the most unsafe country in South Asia for journalists, followed by Pakistan and India. These countries are at the bottom of 180 countries cited in the report.
Here is the overall RSF ranking of South Asian countries: Bhutan ranked first with a score of 65, the Maldives second with 72, Nepal third with 106, Afghanistan fourth with 122, Sri Lanka fifth with 127, India sixth with 142, Pakistan seventh with 145, and Bangladesh eighth with a score of 152.
As Bhutan, the Maldives and Nepal improved from the last year; their ranking was far better than the three larger states of India, Pakistan and Bangladesh. On the other hand, although Sri Lanka, Afghanistan, India, and Pakistan showed no decline from the last year, they have a low global index ranking. Therefore, a country-based analysis will help comprehend the complete picture of media censorship in the region.
Six journalists were killed in 2020 in targetted shootings in Afghanistan. Media also faced hardships and layoffs as the pandemic crisis deepened and several women journalists were laid off.
After the allied forces left Afghanistan, the ongoing chaos under the Taliban forced several local and foreign journalists to leave the country. In addition, there is an overall concern that professional women's rights workers and journalists will be compromised as the Taliban strengthen their control on institutions.
In Bangladesh, the police and political groups target reporters as arrests and violent attacks have become common. Reporters, bloggers, cartoonists and media workers are being detained and the government routinely bans newspapers from official briefings.
In a virtual programme, a known photojournalist of Bangladesh, Shahidul Alam, also detained earlier, said that the administration had recently killed a detained journalist, Mushtaq Ahmed. His killers are not being punished despite the international outcry. Reportedly, another journalist, Kishore, was being tortured in jail.
Bhutan has defamation and security laws that severely restrict news media and impose censorship on journalists. Although the 2018 Information, Communications, and Media Act assures mediafreedom, harassment of journalists has become a daunting challenge for media workers. "Journalists who dare to post investigative reporting or criticism are subject to online campaigns by political activists that combine disinformation and defamation with personal and sometimes racist attacks," according to the SRF Index.
In Pakistan, censorship has increased under the government of Prime Minister Imran Khan and his party. As abductions and attacks on media workers have become the new normal, PEMRA (the Pakistan Electronic Media Regulatory Authority), routinely blocks TV talk shows and news programmes. At the same time,the government cancels ads to media outlets as a pressure tactic.
Freedom Network, an independent media watchdog in Pakistan, cites 148 cases of violence against journalists between May 2020 and April 2021 in its Annual Press Freedom Report. At least five journalists were killed during this period.
From verbal threats to physical assaults, "This is an average of over 12 cases of violence a month – one every third day," the report revealed.
In India, Prime Minister Narender Modi's government has become increasingly intolerant of any criticism of its policies of promoting Hindu nationalism. These racist policies are suffocating religious minorities and punishing journalists for challenging restrictions on their work.
Known Indian journalist, Siddharth Varadarajan, has recently criticised the government's media outlets in a recent online discussion organised by the US Institute of Peace (USIP). He said that he has seen the most aggressive political actions so far, and "this is manifested in the strident rhetoric by the government ministers speaking out against the media that they don't like or speaking disparagingly about the media on whatever is carried or published which they don't like." In his opinion, television has become the mouthpiece of the BJP government, a trend never witnessed in the past.
In the Indian-administered area of Jammu and Kashmir, authorities have arrested and interrogated several journalists since October this year. After the government recently allowed publishing newspapershere, the slow and low-quality internet creates more problems than facilitating and treating Coronavirus victims.
After the ruthless regime of Abdulla Yameen in the Maldives, who was very hostile to the press, the newly elected government of President Mohammad Solih promised to create better conditions for media organisations and journalists.
Although the defamation law, widely used by the previous government to curb media freedom, was repealed in 2016, the police used violence against journalists covering demonstrations.
In Nepal, Khadga Parasad Sharma Oli, the new prime minister elected in 2018, has curbed the media organisations and imposed restrictions on reporters. Interestingly, he had opposed press censorship when he was the opposition leader.
Several approaches are being used to gag journalists, including sidelining those who criticise the government and awarding ads to the media outlets that support the administration. In addition, the new criminal code, introduced in 2018, restricts criticism of public figures and imposes limits on investigative reporting.
"Debate about press freedom in Nepal is poisoned by a taboo issue – the total impunity surrounding crimes of violence against journalists during the 1996-2006 civil war," the SRF Index reported.
In Sri Lanka, the newly elected President Gotabaya Rajapaksa has used violence and kidnapping to mute journalists and media workers. Reportedly, 14 journalists have 'disappeared' during the current government. In addition, the police harassment of journalists has also increased. The police have raided, attacked and interrogated many media workers.
Dilrukshi Handunnetti, a journalist from Sri Lanka, discussed media censorship in her country in the USIP virtual panel mentioned above. To her, "Sri Lanka is a case study of how the media industry was controlled and various types of pressures were exerted. We used to call it how the media were kept, but now everyone is kept. The mainstream is generally kept." She also said that her government has been killing the messenger as journalists are also severely impacted by ethnic strife.
Patterns of media control
The Committee to Protect Journalists (CPJ) reported some popular tactics that the governments have used to control the media content worldwide. From direct violence to imposing legal restrictions and harassment, these approaches have become powerful tools to censor media outlets, ostensibly to manage the pandemic.
Journalists, reporters, and media workers increasingly have been arrested and jailed, mostly in developing nations. It has also been a widely used tactic in South Asian countries where journalists are imprisoned in India, Pakistan and Bangladesh for challenging governments or defying restrictions on freedom of expression.
On and off-line harassment of media personalities has also become a common tactic in the region. Media workers, reporters, and journalists routinely become targets of verbal abuse and threats — harassment of women journalists by governments, political activists and religious groups. Scolding, cursing, gender-based slurs and threats are commonly used to prevent women from reporting the truth in male-dominated societies in the region.
In addition to harassment and jailing, journalists are also a target of violent killings and torture in South Asia as a significant tool of silencing the media. For example, whenever journalists report financial scandals in public and private institutions, they become victims of violence. Several have been tortured or killed.
Legal restrictions are also a form of blatant censorship in the region. As fake news is becoming common in online media, governments also use legal frameworks to punish journalists for fake news. In a sense, fake news is used to implicate journalists in fake cases.
Several countries are also suspending free speech regulations for "controlling"the pandemic while authorities are increasingly restricting public access to official information. Moreover, in extreme circumstances, emergency measures are used to deny freedom of expression as a blatant form of censorship.
Restrictions on freedom of movement, surveillance of media workers and contact tracing are used in addition to deporting foreign reporters and imposing visa restrictions.
In its White Paper on Global Journalism, the International Federation of Journalists cited Pakistan, Afghanistan and India as the most dangerous countries for media, with 11 journalists killed in these countries in 2020. Again, Pakistan was on the top, followed by India and Afghanistan.
Overall, the pandemic crisis, along with the onslaught on freedom of expression, has become a double-edged sword for media workers as they try to expose government inefficiencies and state-sponsored disinformation campaigns.
Amid the new vaccines and preventive measures, the effects of the pandemic seem to be dwindling, but the way it looks, the censorship virus will not leave South Asia soon.
---
The author is co-editor of From Terrorism to Television: Dynamics of Media, State and Society in Pakistan (Routledge, 2020). As an academic scholar and freelance journalist in the United States, he has worked for universities as assistant dean, director and professor of mass communication